Based upon the number of review requests I receive, the genre of "survival fiction" is hot.  More than hot, actually.  It is exploding with new authors putting survival stories to paper on a regular basis.  As someone who lives and breaths prepping and survival, when I take a few moments out of my day to relax, reading a terrifying tale of survival during a SHTF situation is the last thing I want to do.  I would much rather take to the trails, hiking with my dog or hitting the dance floor with the Survival Husband.
Every once in a while, however, a survival novel  crosses my path that is not only a relaxing and entertaining read, but also a though provoking primer on dealing with the unexpected consequences of the breakdown and collapse of society.  The book Brushfire Plague, by R. P Ruggiero is such a book and I do not say this lightly.  From the first few pages through the end, I was challenged by the issues faced by a community under the siege of chaos and sickness and was provided with a platform for formulating my own plan should I be put in a similar situation.
And the Winner Is . . .
But I am getting ahead of myself.  As promised, I am giving away a copy of the Brushfire Plague and am happy to announce that the winner, chosen at random from comments to my Brushfire Plague Giveaway is Rusty who was chosen at random using the number generator at www.random.org.
Thanks to all of you for entering the contest and sharing the reason you prepare with the rest of my readers.
Lessons Learned from Brushfire Plague
Today I am pleased to share with you the lessons I have learned from reading this outstanding novel.  And although I finished the book almost two weeks ago, I am still thinking about those lessons and incorporating them in to my personal preparedness program.
1.  Skills and stuff are equally important.
What do I mean by that?  Simply that you can have a years' worth of freeze dried food, six ways to purify water and a well-stocked first aid kit but if you don't have the skills to defend yourself, the knowledge to find food in the wild, and the ability to tend to serious wounds, all of the "stuff" you own will be of little use to you.
2.  Community organization with like minded people can and will save lives.
Unless you live in isolation, the bad guys are going to come around and it may be difficult if not impossible to defend yourself on your own.  Not only is there strength in numbers, but members of an organized team will most certainly have a wider variety of skills at their disposal.
3.  Mental discipline and a level head under pressure will prevail when tough decisions need to be made.
When roaming groups of people show up on your street, they may be tired, hungry and in need of shelter.  What do you do?  Who gets to stay?  How do you decide?  This is just one example of the tough decisions you may have to make in a collapse situation.
4.  Do not underestimate the need to defend yourself in ways you can not fathom in advance.
Without being too much of a spoiler, Brushfire Plague presented methods of community defense I had not considered before.  (Hint:  using old vehicles to set up a physical blockade – now why didn't I think of that?)
5.  There will be casualties.  Be prepared mentally and physically to deal with the seriously wounded and the deceased.
You may feel prepared with a well-stocked first aid kit, antibiotics and even a suture kit.  But do you know how to use them?  How do you determine dosages especially when the drugs on hand may be in short supply?  Who gets them and who does not?

And equally important, if people die (and they likely will), what will you do with the the bodies?  Bury them (hope you have a strong back and a good shovel)? Burn them?  The ramifications may be horrific but if you are one of the survivors, you will have to have the mental capacity to deal with this.
6.  Grieving is important as is the need to spend personal time alone to rest and recharge.
No one can do it all 24 hours a day for days on end.  Take time to grieve your losses and also time to rest and recharge your mental and physical batteries.
7.  Perceived "good guys" may be bad and perceived "bad guys" may actually be good.
No surprise here. Just be prepared to evaluate, interview and act based upon as much knowledge and gut instinct you can muster. Trust no one until that trust in earned.
8.  Feelings and compassion count as does the love and support of friends and family.
This is an important theme both in the book and in my own life.  Without these qualities, the will to go on may be compromised.  Again, I do not want to spoil the book for you, but much as in Cormac McCormack's "The Road", the love between a father and his son is an important part of Brushfire Plague.
The Final Word
In my opinion, survival fiction should not be so terrifying that you end up filled with fear and apprehension.  Instead, you should first of all, enjoy the book and second, come away with a sense of renewed motivation to continue to expand upon your survival skill set.  Also, the very best of the genre will present situations that could really happen in either the short term or long term and not be so "out there" in fantasy, that there is no useful takeaway.
That is my two cents, anyway.  Next on my list?  BOCA CHITA: Prepare. Escape. Survive
by Lance Long.  I have not started it yet but it looks like it will be another good one.
Enjoy your next adventure through common sense and thoughtful preparation!
Gaye
Bargain Bin: Couple being a good neighbor and with strong primary defenses and you have a winning combination. Here are some items to consider as you build up your fortress.
Brushfire Plague:  I heartily recommend that you pick up a copy of Brushfire Plague not only for an enjoyable read but also so that you can connect with your own thoughts on dealing with chaotic collapse of society, even for the short term.
The Road:  In addition, if you have not read The Road and would prefer a movie instead, the DVD
is reasonably priced at less than $10.
Dorcy LED Wireless Motion Sensor Flood Lite: This light is awesome. I use mine downstairs and when I get up in the middle of the night, it comes on automatically. It is quite unobtrusive and gives off a ton of light.  I own two of these flood lights.  Runs for a year on 3 D size batteries. About $20.
Uniden Bearcat 200-Channel Portable Scanner: A hand scanner with ham band for less than $100. Very portable.
Two-Way Radios and Scanners For Dummies: I will say it again.  Yes, I love these books for "dummies" even though I actually think I am quite smart.
Sabre Family Home & Property Protection Pepper Spray:  This small fire extinguisher-style pepper spray delivers a strong blast covering an entire doorway. Offering extremely practical protection, SABRE provides distance from your threat with its 30 foot range.  I like that it includes a wall mount.  About $36.
Security Decals – 4 Pack: Security surveillance camera system warning decals/stickers. Increase security whether you have a system or not -no one will know but you. Less than $10.
Defender Security System with 4 Indoor/Outdoor Night Vision Cameras: This will give you a good start on an exterior video system. Eight cameras are even better but this will certainly be a good start.
Motorola FRS/GMRS Two-Way Radios: There are lots of good uses for the these radios. Handy while hiking, traveling, or simply keeping in touch with your partner while out shopping.  You might also want to consider the Midland FRS Radios
which I have just purchased for my own use.  Slightly more in cost than the Motorola's but higher quality in my opinion.
Keypad Deadbolt: Need a good strong lock? With this, you will never have to worry about locking yourself out plus, you can secure the deadbolt from inside the house.
Be sure to shop the Emergency Essentials Monthly Sales
some great deals – typically 20% to 30% off.  One of my favorite items on sale this month is the Stir-Fry Combo.  It contains Asian Style Chicken, popular vegetables, and other ingredients perfect for creating a flavorful stir-fry.  The sale price is $84.99.
Other October specials include Freeze-Dried Roast Beef
at $39.99 (about $10 off), the Mountain House Classic Assortment Bucket
(also about $10 off), Clarified Butter
at $6.99 (normally $8.50), Honey Oat Granola at $8.99 (normally $11.95) and more.
Want to help support Backdoor Survival?  Purchases earn a small commission and for that I thank you!
Like this and want more?
CLICK HERE to receive Backdoor Survival Posts by Email (usually on Tuesday, Thursday and Sunday)
CLICK HERE to sign up for the new Backdoor Survival Newsletter! (Periodically)
CLICK HERE to visit Backdoor Survival on Facebook (updates posted every day or so)
Spread the Word – Tell your friends: Share Backdoor Survival with your friends. All you need to do to send them a short email. Now that was easy!
Shelf Reliance Virtual Party: Are you a fan of Shelf Reliance and Thrive products? Backdoor Survival is hosting a virtual, online Shelf Reliance party with discounted party prices and some special packages not normally found at the Shelf Reliance site.
Need something from Amazon (and who doesn't)? I earn a small commission from purchases made when you begin your Amazon shopping experience here. You still get great Amazon service and the price is the same, no matter what.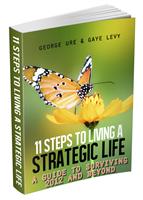 Spotlight Item: Are you looking for some motivation to get started or stay on track with a self-reliant life? 11 Steps to Living a Strategic Life, co-authored with my long time pal, George Ure, was recently launched on our websites and on Amazon. The website version is a PDF that works great on iPads, Nooks and other mobile devices. I think you will like it!